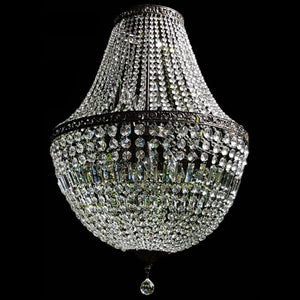 Paris Basket Chandelier 75
Sale price Price $0.00 Regular price Unit price / per
Our second largest chandelier from the Paris Basket Collection. This bronze finish chandelier is fabulously grand and opulent with its strands of 30% lead crystal cascading down to meet and create a fuller basket shape that is most desired in Chandelier design for baskets. Match it with additional chandeliers from our Paris Basket Collection and it's a real party.
DIMENSIONS:
Width: 75 Centimetres
Height: 110 Centimetres

WEIGHT:
Gross Weight: 18 Kilograms 
COLOUR:
Traditional Bronze Finish
LIGHTS:
12 Lights/Globes 
TERMS & CONDITIONS:
Prices above exclude GST.
Call Today To Discuss Your Hire Requirements & Pricing 1300 889 220