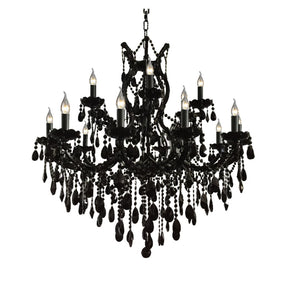 Noir Black Chandelier 110
Sale price Price $0.00 Regular price Unit price / per
This exquisite range of Black Chandeliers are the highest quality Luxury and Style mixed into a sensational statement piece. With full Lead Crystal in Black the impact these custom designed chandeliers create is something that will have your clients and quests in the utmost prestige. With inspiration drawn for European designs this chandelier is called "Noir", simply, the French word for Black. Named for it's simplicity, beauty and strength. This chandelier will give you the statement you have been looking for and create an event that everyone will remember. 

Put this Chandelier in a cluster around its larger sister chandelier the Nior Black Chandelier 150 or with multiples of this chandelier sparkling together.
DETAILS:
Width: 110 Centimetres
Height: 110 Centimetres
WEIGHT:
Gross Weight: 25.00 Kilograms
LIGHTS:
18 Lights / Globes
TERMS & CONDITIONS:
Prices above exclude GST.
Call Today To Discuss Your Hire Requirements & Pricing 1300 889 220