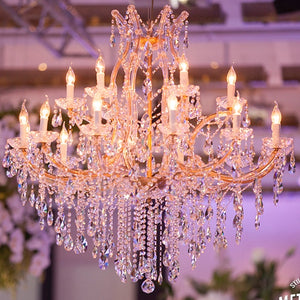 Elegance Gold Chandelier 110
Sale price Price $0.00 Regular price Unit price / per
Elegance Chandeliers are traditional chandeliers extremely popular for weddings. This chandelier is the perfect mid-range chandelier that is unforgettable luxury. It is our greatest love to see our Elegance Chandeliers sparkling together in clusters, sets or matched with other chandeliers from our Chandelier Collections. If you are interested in this chandelier, you will also note our Elegance Gold Chandelier 130 is the next size up available.
DETAILS:
Width: 110 Centimetres
Height: 110 Centimetres
WEIGHT:
Gross Weight: 25.00 Kilograms
LIGHTS:
18 Lights / Globes
TERMS & CONDITIONS:
Prices above exclude GST.
Call Today To Discuss Your Hire Requirements & Pricing 1300 889 220